A few quick notes:
Tomorrow, Tuesday April 20th, Kate Wilson will be appearing in court in London as part of an ongoing case she's bringing against the cops who spied on her:
"Kate Wilson was deceived into a long term intimate relationship by Mark Stone, who she now knows was undercover police officer Mark Kennedy.
A decade after Kate's legal case against the police began, it concludes with a hearing at the Investigatory Powers Tribunal from 20th-28th April.
Among other issues, this case will examine sexist discrimination within the Metropolitan Police Service, and the systemic disregard for women's fundamental human rights between 1998 and 2010.
Her case refers to the actions of at least 6 different undercover officers serving in the secret political spycops units, the Special Demonstration Squad and the National Public Order Intelligence Unit, during that time.
Kate has already received startling admissions that the police breached her human rights. Specifically, they are;
Article 3: Freedom from torture and inhuman or degrading treatment
Article 8: Respect for your private and family life, home and correspondence
Article 10: Freedom of expression
She is, through these proceedings, the only person to have received significant disclosure of police 'intelligence' files held about her.
Join us to stand in solidarity with Kate on Tuesday 20th April at 9.00am. We will be outside the Royal Courts of Justice in London. If you can't be there, show your solidarity online using the hashtag #WeStandWithKate
We will be outside of the RCJ from 9.00am, for roughly an hour, before the proceedings begin. Please bring banners and placards if you have them. We will observe social distancing guidelines by keeping a two metre distance between us. Please wear a mask if you're able to.
Messages of support are a great way to show solidarity with Kate.
Please email messages to contact@policespiesoutoflives.org.uk
For more about Kate Wilson's spycops case, see her page at Police Spies Out of Lives."
Also going on this week, school staff at Leaways in Hackney will be striking against victimisation of union members on Wednesday 21st. You can support them by joining a picket of the school on Wednesday morning, or joining an online rally on Thursday evening: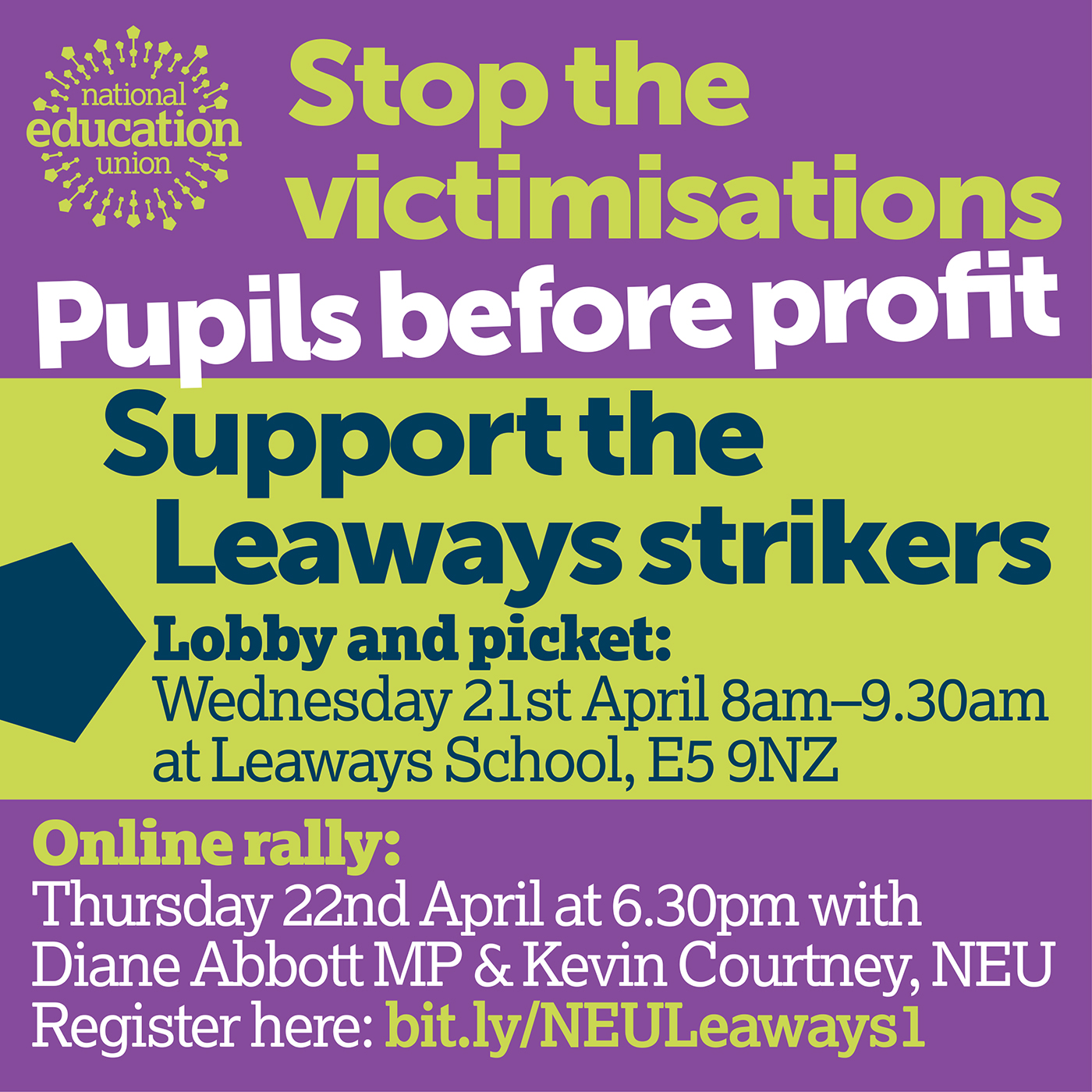 There's also an online event happening in support of another victimised NEU rep, Kirstie Paton:
"Kirstie Paton is facing disciplinary proceedings by United Learning, following a post she published in December 2020 on her NEU Inner London Executive Facebook page. This post raised concerns about the use of "Lateral Flow Tests" to replace self-isolation of close contacts. As a trade union elected representative, she is legally entitled to express concerns and criticisms of employers on matters of interest to union members without fear of formal disciplinary procedures.
Kirstie has been summoned to a hearing on the 29th April. This hearing could lead to Kirstie's dismissal. Members at Kirstie's school have voted to take strike action on that day to send a message to United Learning that they should stop this process. Please follow the below steps to show support for Kirstie: 1. Tweet/Facebook/Insta your support for Kirstie ahead of the strike using the hashtag #IAmKirstiePaton. Solidarity selfies welcome or just the #hashtag!
2. Please tweet the school (@TheJohnRoan) and send a letter to school managers Jon Coles, Cath Smith and Stephen Belk in support of Kirstie here, demanding that they drop all charges against her: https://actionnetwork.org/…/defend-neu-exec-member…
3. Invite your friends to this event and share the event!
4. Send messages of support for Kirstie and other members of staff at John Roan to Johnroannut@gmail.com"
Other ongoing disputes include the all-out strike against fire and rehire at Go Northwest buses in Manchester, and at Goodlord referencing in London:
In other news, there's been a call for this week to be a week of action against Kier Construction, who are involved in both building a new mega-prison and the environmentally damaging HS2 project. The actions kicked off this morning with blockades at both the HMP Five Wells building site and a HS2 compound. See kierendshere on twitter, fb or insta for more.