A few notes on upcoming events and ongoing workplace disputes:
On Tuesday 20th, the RMT are holding a Justice for Cleaners demonstration outside Parliament, as part of their ongoing campaign against the privatisation of cleaning.
On Wednesday 21st, there's another cleaners' protest, this time organised by grassroots union CAIWU at Facebook's London offices. They complain "Facebook cleaners have started getting sick – hardly surprising when they have twice as much work as before. Yet Churchill Group just blames [them] for not working ENOUGH."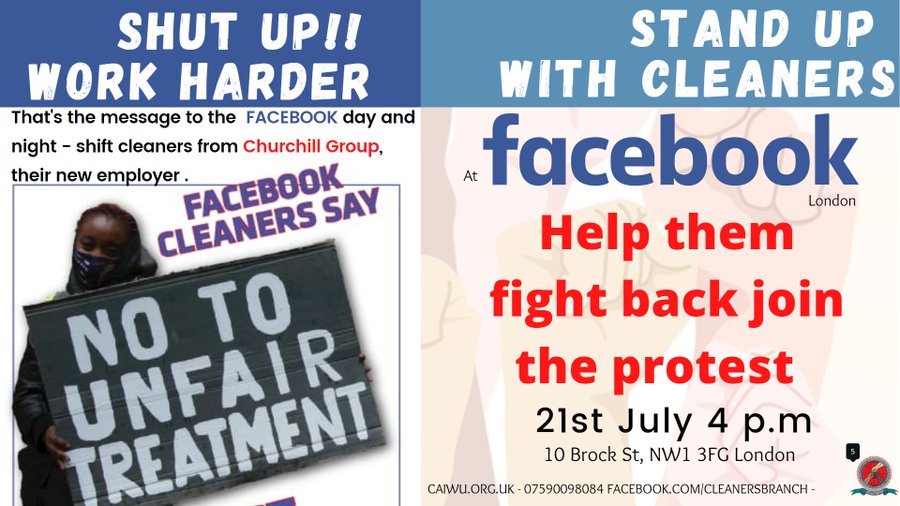 On Saturday 24th, a Reclaim Pride march will be held in London.
Sunday 25th is the international day of solidarity with antifascist prisoners, so you might want to do something to mark that date.
Conductors on East Midlands Railway are striking regularly every Sunday through July and into August in response to the company trying to issue inferior contracts to some guards. ScotRail staff have also been holding regular Sunday strikes over pay justice. 
On Thursday 29th, there's a "fight oppression globally, welcome refugees" protest at the Home Office, organised by the Uyghur Solidarity Campaign and supported by a number of other groups.
On Friday 30th, cleaners at Royal Parks will be striking over pay, conditions, and the reinstatement of a sacked colleague, in action co-ordinated between PCS and the grassroots union UVW. Rail Gourmet staff at Edinburgh have been taking strike action over bullying and harassment, with the next date scheduled for Saturday 31st, and that date also sees a call to occupy Peckham Green, where the local community are fighting to defend a park from being built over.
Tube drivers will be taking strike action starting on August 3rd, in response to London Underground scrapping the Night Tube Train Drivers' grade.
Further ahead, there's a few anarchist bookfairs and related events planned for September, with the Bradford bookfair on the 4th, the Antiuniversity running a festival from the 4th-10th, and a London bookfair planned for the 11th-12th.
Another dispute is ongoing in Bexley, where outsourced refuse staff employed by Serco on behalf of the council are in the middle of a two-week strike over a 1.5 per cent pay offer, disparities in pay for workers doing the same jobs, the removal of industrial sickness benefits and Serco's refusal to hand over years of back pay owed to nearly 50 staff. Outsourced security staff at Reading Hospital went out on strike on July 12th and are staying out till the end of the month, after balloting over the failure of the company to meaningfully negotiate a decent pay offer for 2020; failure to take health and safety concerns seriously; and the refusal to discuss on sick pay relating to health and safety and to address the disparity in sick pay between colleagues.
Outsourced support staff employed through ISS at the Department for Business, Energy and Industrial Strategy have delivered a 97.3% vote for strike action on an 82% turnout.
In prisoner support news, Bristol ABC are calling for people to support Ryan Roberts, who's held awaiting trial on charges related to alleged participation in the Bristol Kill the Bill protests.
His address is:
Ryan Roberts
HMP Horfield
19 Cambridge Road
Bristol
BS7 8PS
Prison number A5155EM
As ever, please be careful with any writing addressed to a pre-trial prisoner.
Finally, a few recent victories: workers organised through UVW at the luxury housing development West End Quay have called off a strike after winning a whole set of demands. London Renters Union and others successfully prevented an eviction, a story which has been reported in the Mirror and Novara.
At the Royal London Hospital, strikes have been called off after Serco offered important concessions including moving and retraining a manager accused of bullying, and workers at the Southbank Centre have beaten an attempted pay cut.