Another quick listing of upcoming events and recent news:
UCU members at the University of Liverpool are out on strike from now until Saturday 14th against compulsory redundancies. They've already managed to negotiate their employer down from 47 job losses to 2, but refuse to suspend their action until all jobs are secure.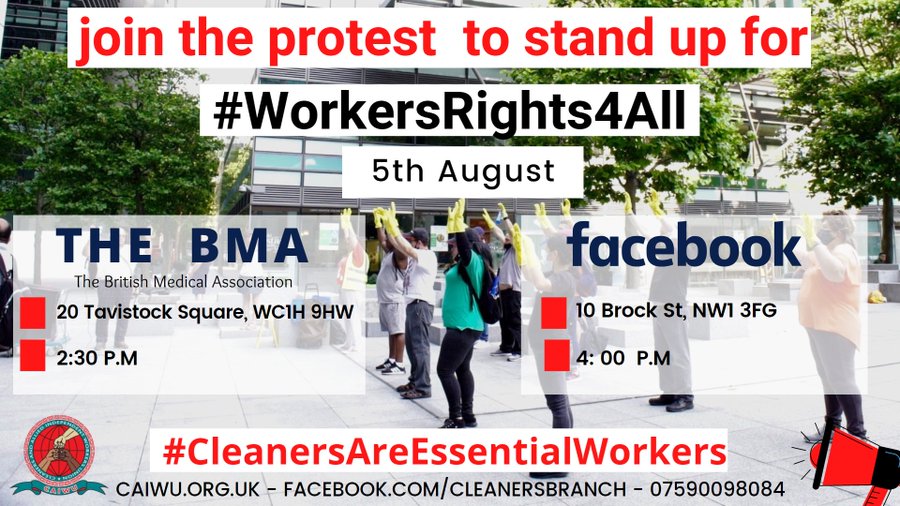 On Thursday August 5th, grassroots cleaners' union CAIWU will be holding protests at the headquarters of both the BMA and Facebook. About the facebook campaign, they've written:
"On July 21st, several dozen cleaners at Facebook's 10 Brock Street offices took to the streets. The purpose: to tell their employer, Churchill Cleaning, that enough is enough.
They cannot work harder just because Churchill has added five new floors to the area they have to clean.
They cannot work harder to make up for Churchill's failure to replace cleaners who have left.
They can't work any harder, and they won't work any harder. But they will keep protesting until Churchill and Facebook get the message.
They are already working as hard as they can.
Support the Facebook Cleaners. Join the protest on August 5th."
This Thursday also sees the BFAWU union holding a protest at the Leicester factory of Food Attraction, who are forcing their workers to work long hours without extra overtime pay and only providing the minimum SSP rather than proper sick pay rates.
On August 6th, there's an important demo in London against the construction companies building HS2, which are refusing to allow Unite meaningful access to the site. The demo should be the start of a larger campaign against union-busting in the construction industry, and starts at 12 noon at the corner of Hampstead Road and Roberts Street NW1 3EL (close to Euston Station, London).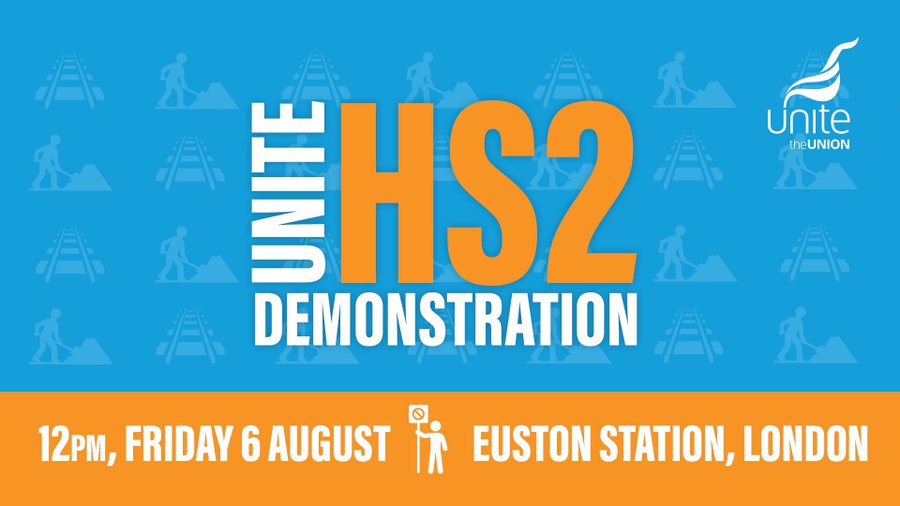 That day also sees an online solidarity rally with the Liverpool UCU strike.
RMT members on Hull Trains are to start regular strike action on Sundays in defence of their pension rights, with the first date set for the 8th, and then continuing on every Sunday through August if the dispute isn't settled. Similarly, on East Midlands Railway, RMT members are set to strike on every Sunday from the 8th through to the end of September in a dispute about safety and management trying to impose new working arrangements.
On Monday 9th, there's a real-life, in-person rally in support of the Liverpool UCU strike, and the Strike Map project has a (virtual) book club about self-organising and workers' struggle in South Africa.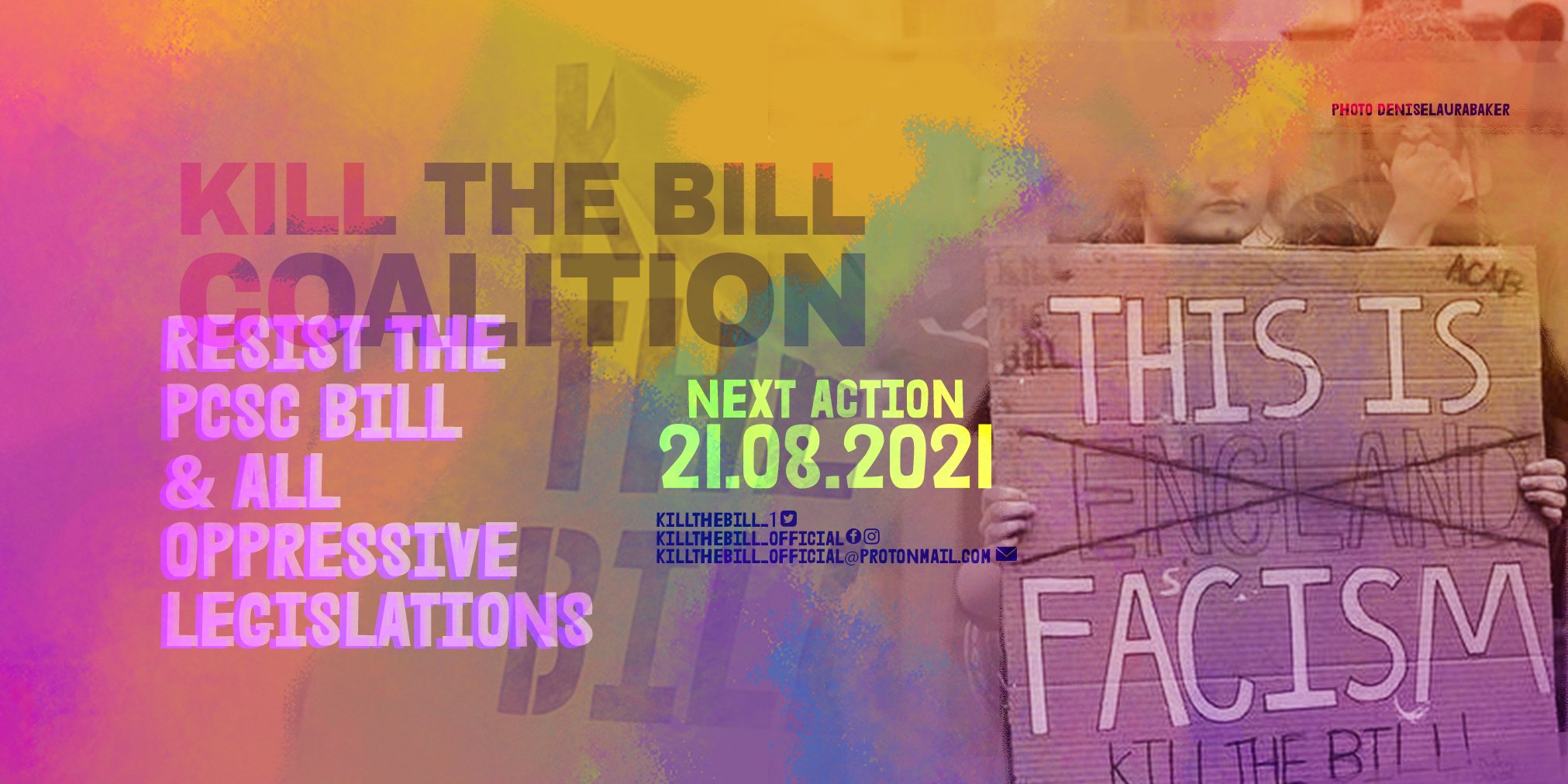 Further ahead, Saturday August 21st is the next big date for the Kill the Bill movement. As Netpol have highlighted, the House of Commons passing the bill does not mean the fight's over. That date also sees Rail Gourmet staff at Edinburgh Waverley starting a three-day strike against management bullying and harassment.
Further ahead, there's a few anarchist bookfairs and related events planned for September, with the Bradford bookfair on the 4th, the Antiuniversity running a festival from the 4th-10th, and a London bookfair planned for the 11th-12th.
In other ongoing workplace dispute news, the grassroots union IWGB have begun balloting for strike action among Enfield cycling instructors, and you can donate to their strike fund here. They're also preparing for a campaign against outsourcing at the London School of Hygiene & Tropical Medicine. Elsewhere, London IWW have launched a campaign against wage theft at a Wimbledon sushi restaurant.
Planned strike action on the tube has been suspended for now after progress was apparently made in ACAS talks. Meanwhile, the long-running Bexley Serco bin strike continues, and seems like it could run for a while longer as Serco appears unwilling to negotiate. Reel News have made a short film about the dispute so far:
In legal/repression news, there's a lot to report. The first cases from the Bristol Kill the Bill protests have now come to court, and five people have received prison sentences, with two more currently being held on remand awaiting trial. You can donate to support the prisoners here, and read a bit more analysis of their sentencing in Freedom here.
The following prisoners would like to receive messages of support: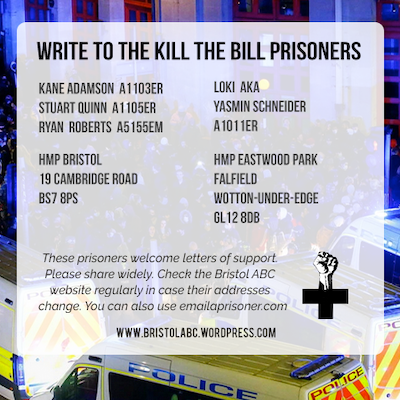 See Bristol Defendant Solidarity on twitter or Support Kill the Bill Prisoners on instagram for more news on that situation as it develops.
Meanwhile, Community Action on Prison Expansion are asking for people to object to a proposed prison in Buckinghamshire getting planning permission, and the family of anarchist prisoner John Paul Wootton are asking for people to email and write to the Northern Ireland Prison Service demanding an end to the discrimination against John Paul.
Finally, just to note that a range of new stickers are available from the Anarchist Communist Group, with new ones from the related No Safety No Work campaign also coming soon. And if you want even more, perhaps to cover up the conspiracy theorist shit that seems to be everywhere these days, the Autonomous Design Group always have cheaply-priced and excellently-designed stuff.