A few quick updates: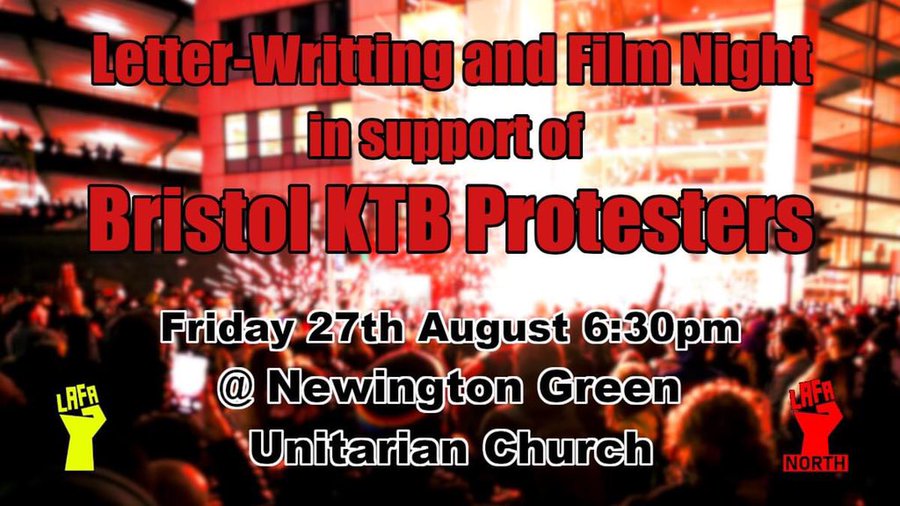 Tonight, North London Anti-Fascist Assembly will be running a night of solidarity with the imprisoned Bristol Kill the Bill prisoners, featuring letter-writing, a film showing and more.
On Saturday 28th, Equity are organising a protest against the proposed council cuts at Stratford Circus in Newham. That night also sees a fundraiser party for the ongoing PCS/UVW Royal Parks strike. As previously noted, in Brighton, Liverpool, Nottingham, Cambridge, Sheffield, Leeds, Manchester, Coventry, North London and East London, campaigners will be calling on TUI to end their complicity with the Home Office's deportation regime.
Regular Sunday strikes are continuing on East Midlands Trains, running into mid-October, and also on Hull trains and Scotrail.
On the bank holiday Monday, there's a big strike rally being organised in support of the Royal Parks strikers, at Speakers' Corner in Hyde Park. Then on Tuesday 31st, Serco staff at Sandwell will be striking over health and safety issues and management bullying, and seem likely to walk out on four successive Tuesdays if the dispute isn't resolved.
On September 4th, care workers will be holding protests highlighting issues with pay and conditions in their industry, with events so far confirmed for London, Newcastle, Manchester, and Preston. That day also sees the Bradford Anarchist Bookfair, and the start of the Antiuniversity thing in London.
Also in early September, there's going to be a range of events happening against the DSEi arms fair, mostly between the 6th-16th. Then on the 11th, there's a demo against another arms fair going on in Liverpool, the Wigan Diggers' Festival up in Wigan, and an anarchist bookfair happening in London.
In other industrial news, Bristol IWW report that staff at a Bristol bakery have started a wildcat strike in response to threatened redundancies. It sounds like the Bexley bin strike may be coming to an end, and Manchester tram drivers have started balloting for action over pay.
In prison news, there's a call for action in response to racist attacks on Muslim prisoners at HMP Long Lartin. You can use a tool to send emails here, read a bit more about the situation in this post, and Freedom have a report from a recent demo at the prison highlighting these issues. There's also another call to send emails in response to a similar situation at HMP Wakefield.