Couriers working for JustEat/Stuart Delivery in Sheffield have now announced plans to strike and hold a series of protests against a new payment structure that will slash their earnings.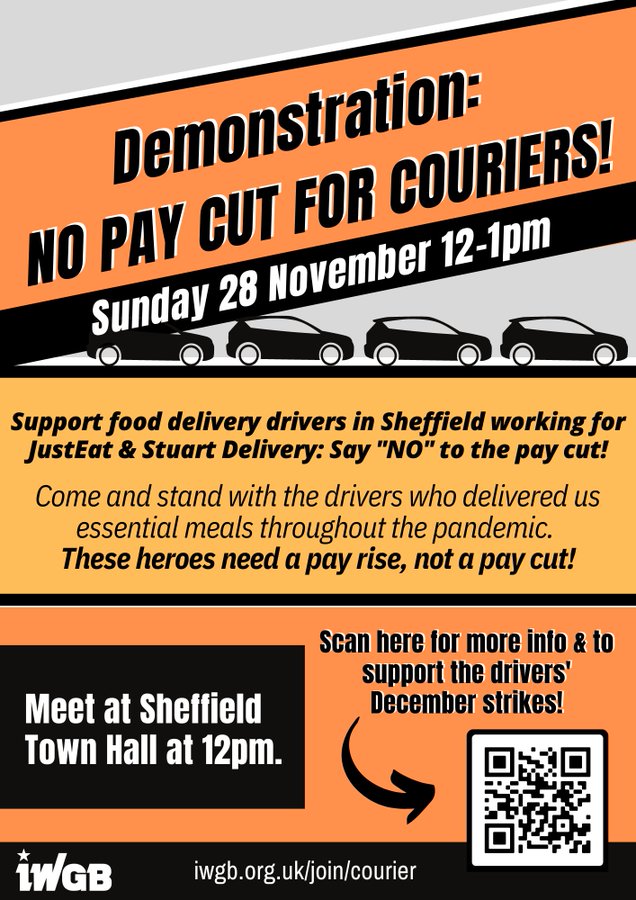 The IWGB union stated:
"On Sunday 28 November at 12 noon, Sheffield food delivery couriers from the Independent Workers' Union of Great Britain (IWGB) are protesting outside of Sheffield Town Hall to demand that Stuart delivery cancels a planned pay cut of nearly 25%. Having previously been promised a postponement to the cuts in October 2021, couriers are set to strike from 6 December after the corporation that delivers for JustEat decided to push ahead with the cuts next month.
Stuart is slashing pay on most deliveries from £4.50 to £3.40 from 6 December 2021 as part of a new pay structure that will force couriers who already have to pay their own vehicle costs to work even harder and longer to make the same money.
The upcoming protest and strike, backed by Sheffield Labour MP Olivia Blake, follows a protest organised by IWGB in October 2021 when the pay cuts were first proposed. At Sunday's rally, couriers will stage a motorcade leaving from Queen Street at 11am, arriving at Sheffield Town Hall at 12 noon where speeches will be given by Olivia Blake MP, members of the council, and workers.
Despite undertaking high-risk key work through the pandemic, Stuart's couriers still live on poverty pay, are denied basic worker rights such as sick pay, and are forced to cover their own vehicle and insurance costs. With rising costs of living and fuel spikes, pay cuts will push these key workers further into poverty."
You can donate to their strike fund here.