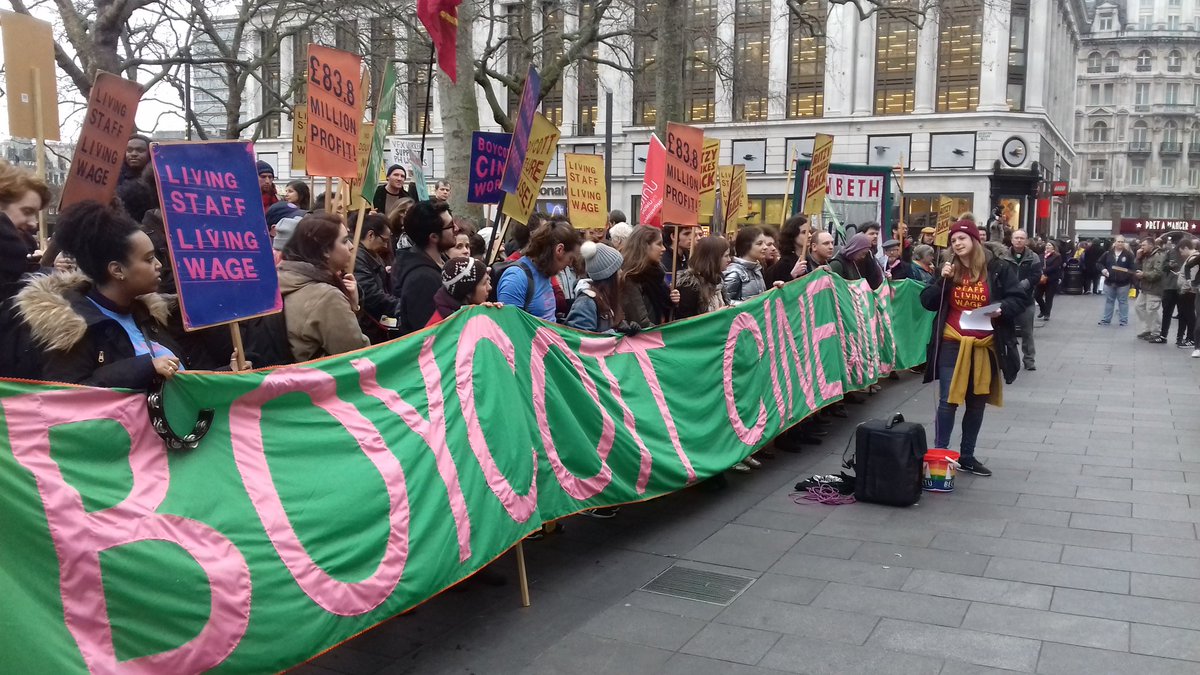 A call-out has gone out for Saturday 29th July to be a national day of action against Picturehouse/Cineworld, the cinema chain that recently suspended four workers for being involved in an organising campaign to demand the living wage.
The organisers say:
"Cineworld is one of the world's biggest cinema chains, which made over £90 million in post-tax profit last year. Workers at several Picturehouse cinemas, part of a chain owned by Cineworld, have been striking to win the London Living Wage of £9.75/hour, decent sick pay, company maternity/paternity pay and union recogntion, among other demands.
As supporters of the strikes, we're calling a day of action in solidarity with the workers, to demand:
* Living wages now!
* Recognise the union
* Stop union-busting: reinstate the sacked reps

We're calling on activists to leaflet both outside (customers) and inside (workers) your local Picturehouse and Cineworld sites. Specific leaflets will be available to download and print from this page.
Picturehouse workers have called a boycott of all sites, so you can make customers aware of this and encourage them to take their business elsewhere until Cineworld/Picturehouse pays a Living Wage and stops union busting.
If there are lots of you, you can have a big, noisy presence with placards and flags. But even if there's only two of you, leafleting customers, passersby, and workers inside the cinema, and taking a photo outside with posters/placards supporting the strike, will still be a valuable and worthwhile activity.
We encourage anyone organising an action to (subtly) go into the cinema first and leaflet all the workers you can find, before starting leafleting outside.
We'd like anyone who does an action to take a photo of it; post them here, and tweet them with the hashtag #PHDayOfAction, tagging the following accounts:
* @RitzyLivingWage
* @HPHLivingWage
* @CPHLivingWage
* @CEPHLivingWage
* @EDPHLivingWage
* @UnioniseDukes
***
FIND YOUR NEAREST PICTUREHOUSE OR CINEWORLD:
www.picturehouses.com
www.cineworld.co.uk
***
We welcome support for this callout from trade union branches, local Labour Parties, Momentum groups, socialist and anarchist organisations, and other left-wing and radical campaigning groups. If your local group sets up an event as part of this day of action, post a link here and let us know."
So far, there's events confirmed for Greenwich, Brixton, Hackney, Crouch End, Clapham, East Dulwich, Glasgow, Birmingham, Stevenage and Edinburgh, with ones for Brighton, Nottingham, and Bradford meant to be on the way. If you fancy taking part, you can download leaflets and posters to print off here.
And while I'm on the subject: surely I can't be the only person to have noticed how much the phrase "Boycott the Ritzy" is crying out to be set to music? Something along the lines of "boycott the Ritzy/OK, I never much liked going there anyway/said they only wanted well-behaved boys/do they think screens and projectors are just fucking toys…" etc etc?