One of the biggest and most notable disputes going on at the moment is the UCU dispute over attacks on the USS university pension scheme. Academic staff at 61 universities are currently in the middle of 14 days of strike action, and the last few days have seen an explosion of student actions in support – see occupation_hub for updates, so far there's been SOAS students cracking a squat, Liverpool students occupying, action in Sheffield, Cambridge students blockading a management building with a giant red picket fence, an occupation at UCL, another at Southampton, and campaigners at Warwick paying a visit to the temp agency on campus. The National Campaign Against Fees and Cuts have put together a brief guide to occupations that might be useful to anyone thinking of launching one of their own.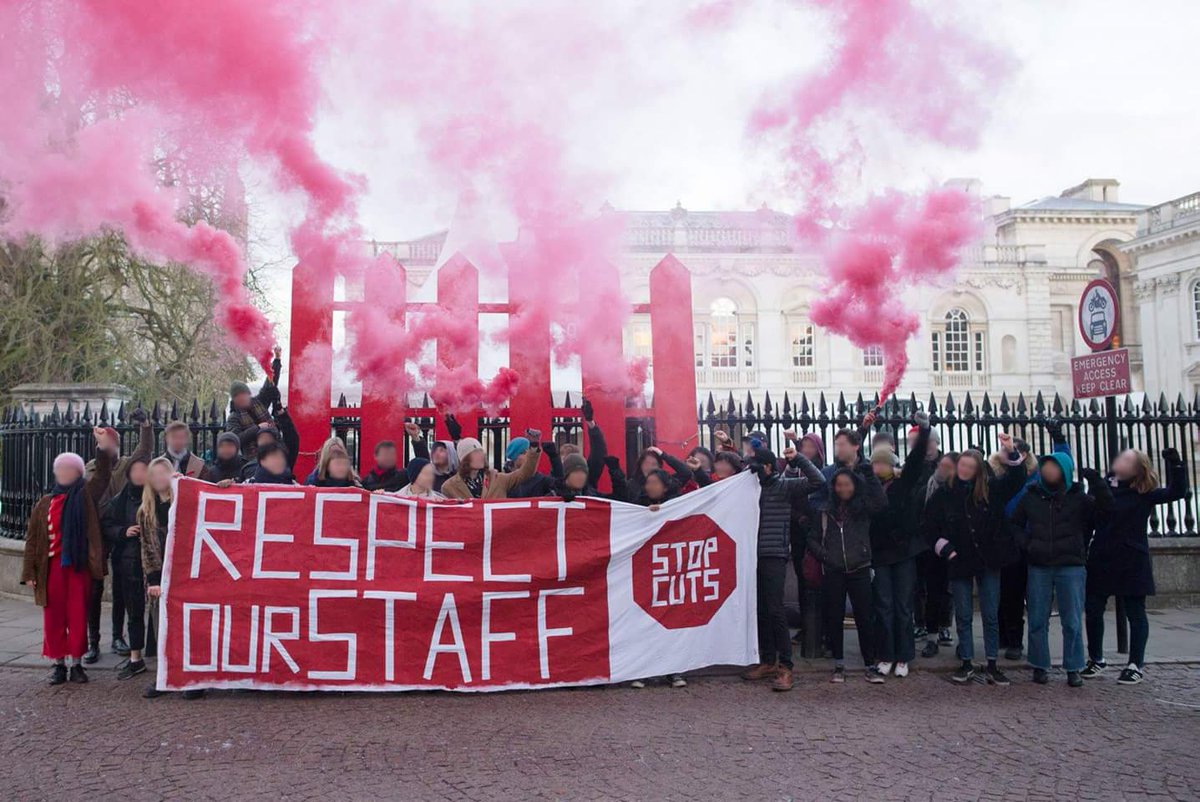 Also in the education sector, UCU members at 15 FE colleges – mainly London, but also Sunderland – will be walking out on Wednesday 28th Feb and Thursday 1st March over pay. Sticking with education, on March 6th, outsourced workers at the University of London who're organising through the grassroots IWGB union will be paying a visit to a posh graduation dinner to remind the Vice-Chancellor of their demands to be brought back in-house and given terms and conditions equal to those of other staff. You can read more about that campaign here. In another IWGB dispute, cleaners at the Royal College of Music rejected new contracts that cut their hours in half, and were promptly sacked, so they'll be turning up at a prestigious production of A Midsummer Night's Dream on March 10th to show punters the ugly reality behind the RCM's facade.
In other news related to London's grassroots unions, cleaners at the Daily Mail (insert your own joke about how hard they must work to clean up a building so full of crap here) have organised through the UVW and announced their intention to strike for a living wage, and cleaning company Mitie are now responding by threatening to sack them. You can donate to their strike/hardship fund here.
In news from slightly more mainstream union disputes, housing maintenance workers employed by Mears in Manchester are celebrating a massive win. They've taken over 80 days of strike action since last May, and have now won a pay rise of around 20%, as well as other victories, including the removal of a so-called "sacker's charter" that would have put them on worse, more insecure contacts. Also in Manchester, IT workers at Fujitsu are still fighting back against compulsory redundancies and victimisation of union reps and workplace whistleblowers.
They suggest some ways to support their dispute:
"You can support members at Fujitsu:
Protest with strikers at Fujitsu, Central Park, Northampton Road, Manchester, M40 5BP (by Central Park Metrolink station) between 7-10am on week-day strike days.
Send a message of protest to Duncan.Tait@uk.fujitsu.com, copying support@ourunion.org.uk or Unite the Union, Fujitsu MAN34, Central Park, Northampton Road, Manchester, M40 5BP
Add your name to the "Reinstate Ian Allinson" statement: http://tiny.cc/reinstateian and ask others to sign e.g. your MP
Donations payable to "Manchester IT Workers Group" can be sent c/o John Wood, 50 Brooklyn Street, Crewe, CW2 7JF. Or transfer online to Account: 00980539, Sort Code: 30-91-48 and email support@ourunion.org.uk with details.
Follow and promote the campaign on social media using #FujitsuFightback. www.facebook.com/uniteatfujitsu. www.twitter.com/unitefujitsu."
The long-running RMT "keep the guard on the train" dispute continues, with action scheduled for Saturday 3rd March on Northern and Merseyrail, and Monday 12th March on Southern Rail.
In non-workplace news, Disabled People Against Cuts were calling for a day of action against Universal Credit at the start of March, but that's now being postponed in most places due to the weather. Edinburgh are still going ahead because they're hardy up there. Finally, the Anarchist Communist Group, a new class struggle organisation formed after the fallout from last year's London Anarchist Bookfair, now have a shiny new website at anarchistcommunism.org, so give them a look if that sounds like your cup of tea. Currently active in London, Surrey and Leicester.