In workplace news, there's been a lot going on over the past few weeks. Starting with the oldest stories first, in December outsourced staff at the University of Greenwich organised through the IWGB voted to strike for equality with directly employed staff, and the IWGB have also announced their intention to start organising Amazon Flex workers. December also saw the launch of a new strike mapping project, and a police attempt to shut down a DHL picket line in Liverpool, and, in international news, the campaign of solidarity with Bangladeshi garment workers managed to win some concessions, although some workers are still having to fight on for unpaid wages.
Moving into the start of this year, the big story was the struggle over the re-opening of schools. The IWW interviewed a teacher about the situation in schools, and followed it up with this report on the action. Since then, the No Safety No Work campaign has published another piece of analysis, highlighting the limitations of the Section 44 letters, and how many schools are still open and classrooms are still occupied. Elsewhere in the education sector, the UVW union has launched United Childcare Workers, a new branch aiming to organise nursery staff, and they report that nursery workers have also been walking off the job under Section 44, along with cleaners at a school in South London.
UVW are also keeping busy in other sectors, as their members working at Sage Care Home will be striking for a living wage and improved sick pay and annual leave allowances.
They suggest a number of ways to support the dispute:
Donate to their strike fund, taking a large number of workers out on strike is no easy feat and having a strong strike fund will be essential to these workers winning the respect, equality and dignity that they deserve. You can donate to the workers' strike fund here. Be sure to also share their Crowdfunder on your social media and with friends and family.
Write to the trustees of Sage using our UVW mass mailing tool, all you need to do is click this link and you can let Sage know exactly what you think about denying these workers a living wage and dignified T&Cs. You can find the letter writing tool here.
Write to your MP requesting they sign Early Day Motion 1314. The Early Day Motion can be found here and you can find out who your MP is by visiting Write to Them. Finally, we have provided a template email you can use to ask your MP to sign the letter here.
Finally, share this story on your social media with friends and family!
Donations of up to £50 made to the strike fund before sunset on the 14th will be matched up by Jewish Solidarity Action, if you send your receipt to them on twitter or fb (or hopefully if you email it to jewsagainstboris@gmail.com). There's an online rally/zoom call for the dispute happening on the evening of the 14th, and messages of solidarity can be sent to the strikers at sagenusinghome@uvwunion.org.uk.
In more mainstream union news, the "Battle of Barnoldswick" seems to have come to a successful end with the strike being suspended after a deal to save the site was proposed, and British Gas staff are planning further strike action against "fire and rehire" pay cuts, with walkouts planned for Wednesday January 20, Friday January 22, Monday January 25, Friday January 29 and Monday February 1. The GMB have set up a helpline for workers to report intimidation and bullying from managers, and are asking supporters to sign a message of solidarity here. You can read an interview with a striker here.
Heathrow Workers' Power, a project from the Angry Workers/Let's Get Rooted network, has a set of reports up from recent strikes at Heathrow, including the action by BA cargo workers. In other workplace news, Couriers in Wales have started organising through the IWGB.
In housing news, students at over 45 universities are on rent strike in January, and Acorn are holding an online meeting on Thursday 14th at 18:30 about community organising and solidarity during lockdown.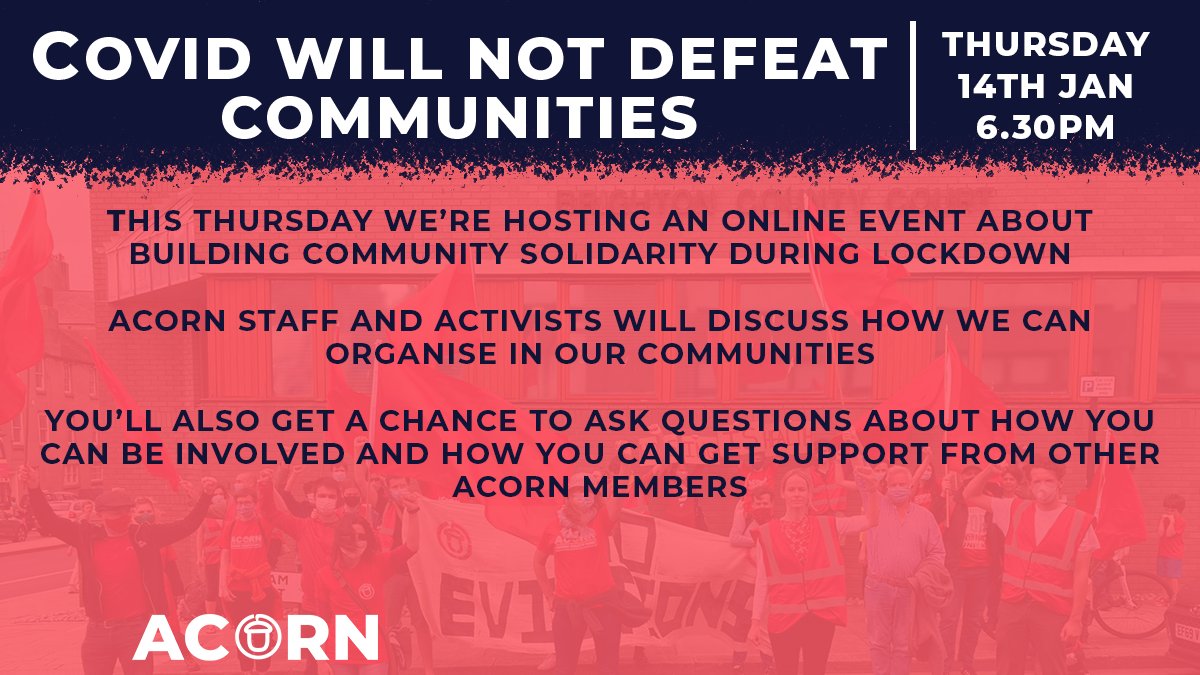 Finally, repression news: Community Action on Prison Expansion are asking people to help with their campaign against Kier Construction's role in building new mega-prisons, and have some quick and easy online actions to take here. They also recommend sharing Corporate Watch's articles on Kier and prison builders in general. There's also an ongoing consultation on the proposed Bucks megaprison, with responses open until the 29th.
Anger is growing in Cardiff after Mohamud Hassan died while in the custody of South Wales Police. The situation looks volatile and likely to develop quickly, and voice.wales seems like a good source to check for updates.
Newham Anti-Raids are calling for online action against border profiteers, and have set up tools where you can email planning agent Turley and designers iDEA to object to their roles working with a planned new Home Office reporting centre.
The Colston Four are due in court on January 25th, with a solidarity presence hopefully planned, lockdown conditions permitting.

A quick selection of US prison news: anarchist prisoner Eric King has been released from his communications ban and can receive letters again. Xinachtli, an anarchist political prisoner who's serving a lengthy sentence for defending himself against a Texas police officer in the 1990s, is eligible for parole this year and a call has gone out for letters in support of his application. Keith "Malik" Washington, an ex-prisoner currently working at the San Francisco Bay View after making parole, has had his phone confiscated after spreading the word about a Covid outbreak at the halfway house where he's staying, and is asking for support against this latest retaliation. In Alabama, prisoners are holding a 30-day strike and economic boycott, which has been joined by several prisoners in solitary confinement going on a hunger strike. At least one hunger striker has been violently attacked by guards. Perilous Chronicle have published a full obituary for Brian McCarvill, an anarchist prisoner who died of a covid outbreak in Oregon last year.