On the legal/repression front in the UK, the big news in recent weeks has been the start of the undercover policing inquiry. On that note, I can't really add anything to the work of the Campaign Opposing Police Surveillance, who've been doing a great job of providing indepth daily summaries. One note worth paying attention to is that blacklisted construction worker Dave Smith was banned from mentioning the name of Carlo Sorrachi, the real name of one of the undercovers who spied on him, even though Sorrachi's name is already in the public domain. Reel News have a short (4 minute) video on the inquiry you can watch here.
Staying with the theme of inquiries and historic state wrongdoing, there's a bit of news from the Orgreave Truth & Justice Campaign. Convictions of Scottish miners from the 1984-5 strike are due to be overturned, and the Orgreave campaign have produced a short film marking the fourth anniversary of the government's refusal to grant an enquiry. They now also have flags for sale, so you can help spread the campaign's message by displaying one whenever it becomes possible to have public gatherings again.
Rounding off the UK section of legal news, Novara have just published an interview with anarchist ex-prisoner John Bowden discussing his 40 years of struggle in the prison system, people up in Glasgow are currently fundraising for a prisoner support fund, and an attempt to prosecute two people in Haringey for obstructing immigration raids was just thrown out of court.
There's also a fair bit of US repression news to catch up on. Starting off with current cases, the days around the election saw heavy FBI raids against organisers in Atlanta suspected of involvement in this summer's uprising. Donations to the Atlanta Solidarity Fund are very much welcomed. A good indepth profile was recently published of Loren Reed, a defendant from Arizona facing serious charges for comments made on facebook during the uprising, complete with ways to help at the end. The Intercept also has a report on Plowshares anti-nuclear protesters being sentenced to federal prison.
On more long-term prisoners, Eric King's support team have an update:
"He can receive books and magazines from publisher or clearly marked from some sort of books for prisoners group. There is a major risk in sending him books and whatnot and that is at any minute they can and will change the rules, stop giving them to him, reject. And you can lose the money spent sending them, or the book potentially could go missing. This is something to keep in mind when sending anything.
Eric should have a review regarding his mail block soon. We really have no idea how it will play out. Once a block is in place it is so easy to just keep it in place for the prison. His illegal phone block was implemented almost 2 years and he STILL has not had his first 6 month review."
Their update also includes a bizarre disciplinary hearing report finding him guilty of "insolence towards staff" and stating that him signing a circle-a after his name counts as "a credible threat towards staff and their families".
Long-term Black Liberation prisoner Jalil Muntaqim was paroled after 49 years and then immediately arrested and re-incarcerated for allegedly completing a voter registration form as part of the legal documents that he filled out on his release. Anarchist hacker and former political prisoner Jeremy Hammond was also released in the last few days and doesn't seem to have been re-arrested yet, and Jay Chase, another political prisoner entrapped by undercover cops, has also now been released.
Elderly Black Liberation prisoner and anti-authoritarian theorist Russell Maroon Shoatz, who is already suffering from cancer, has tested positive for Covid-19, and so there's an urgent drive to get him released on humanitarian grounds. There's also a call for the humanitarian release of Jorge Cornell, a gang-member-turned-community-organiser who was sentenced to a lengthy term on racketeering charges in retaliation for his organising, and who suffers from a number of health conditions that makes him very high-risk if infected with Covid.
There's also a very sad piece of news to share on the topic of long-term prisoners and Covid, via anarchistreadinglist on instagram:
"Brian Caswell McCarvill died on his 68th birthday, which was Sunday, September 27th, 2020. I hadn't seen anything about his death on any anarchist Instagram pages, nor had I heard about it on any anarchist podcasts. The lack of podcast coverage may not be true at all; I haven't had a lot of time to listen to podcasts recently and I may have missed it.
I received a letter I had sent to Brian, returned with a sticker across Snake River Correctional Institution's mailing address with the words, "Return to sender: Not an Oregon inmate". I thought to myself, "That's bullcrap. I know Brian's at Snake River and that's in Oregon." I live in New Zealand, so I thought I'd better make sure by Googling to see whether he's been transferred. I knew his release wasn't coming until 2021.
There was nothing on It's Going Down except the usual Prisoner Birthdays list with Brian's birthday information on it. There were no anarchist prisoner supports sites reporting a transfer or release. I searched for him on the Oregon prisoner database but it returned no results. I thought all of this really weird and tried Googling, "Brian McCarvill Snake River". It returned a news story (link in bio) about neglicence around COVID at Snake River and had a list of COVID-related deaths. I was hoping Brian's name wouldn't be on it. Unfortunately, he was listed and the date was Sept 27th, his birthday.
At this stage, I was upset. Brian had spoken about looking forward to his release and where he may be living when he got out. It was so close in the big scheme of things, especially when you think about how long he'd been incarcerated.
I'm upset that the anarchist media didn't report his death. That no-one from our milieu seems to have been looking out for him and his circumstances in that regard. I, an anarchist of no real consequence from Aotearoa New Zealand, surely can't have been the first person to know that Brian had died? But that's rash and borne of emotion. Perhaps it was reported. Of course, someone must've been looking out for him; he had family as far as I know.
Is this normal? Is it normal for our imprisoned comrades to be name dropped on websites and podcasts but not materially looked out for? I don't know. Is this evidence of the absolute necessity of prisoner support in our milieu? I think so. Brian's death should've been noticed and reported in every major anarchist news publication. It should've been mentioned on every anarchist podcast. I hope there are hundreds of letters being returned to comrades who corresponded with Brian like I did. He deserved to be inundated with letters during his life in prison. He deserved to never go without materials, books, commissary funds, etc. He deserved better than to be murdered by the US prison system whose staff don't take COVID precautions seriously and take the virus behind the walls to infect and kill inmates who can't protect themselves. He deserved to see the outside, to be paroled, to see family and friends. He deserved better. I knew Brian only through letters, but we corresponded for years and I genuinely enjoyed knowing him. Today, my heart is broken.
In the coming days and weeks, I'll be re-reading all the letters that Brian sent me and sharing anything I think should be shared. Brian should be remembered. Please write to our imprisoned comrades. Send them birthday and Christmas cards if the stupid mailing restrictions allow them. Donate to their commissary funds. Ask them how you can help. Sean Swain, Marius Mason, Michael Kimble, Eric King, Jaan Laaman, and all the other imprisoned comrades deserve the world because they're beautiful people and they deserve better than what Brian ended up getting from those snakes at Snake River."
For context, Brian McCarvill was a radical social prisoner who in the early 2000's was involved in taking the Oregon Department of Corrections to court challenging their censorship and rejection of anarchist publications for prisoners with his cell mate Rob Thaxton. The ODOC was attempting to declare anarchists to be members of a Security Threat Group, sort of like a gang, based on their shared political tendency and use of language and symbols, their stances to protest unfair circumstances. By winning the court case he forced the Oregon prison system to allow anarchist materials into its prisons.
Closing off the section of US prisoner news, Jailhouse Lawyers Speak, who helped organise the 2016 and 2018 nationwide prison strikes, are now selling merch to help fund their work, so if you reckon your nan would appreciate a "burn the prisons" face mask then that's one xmas gift sorted.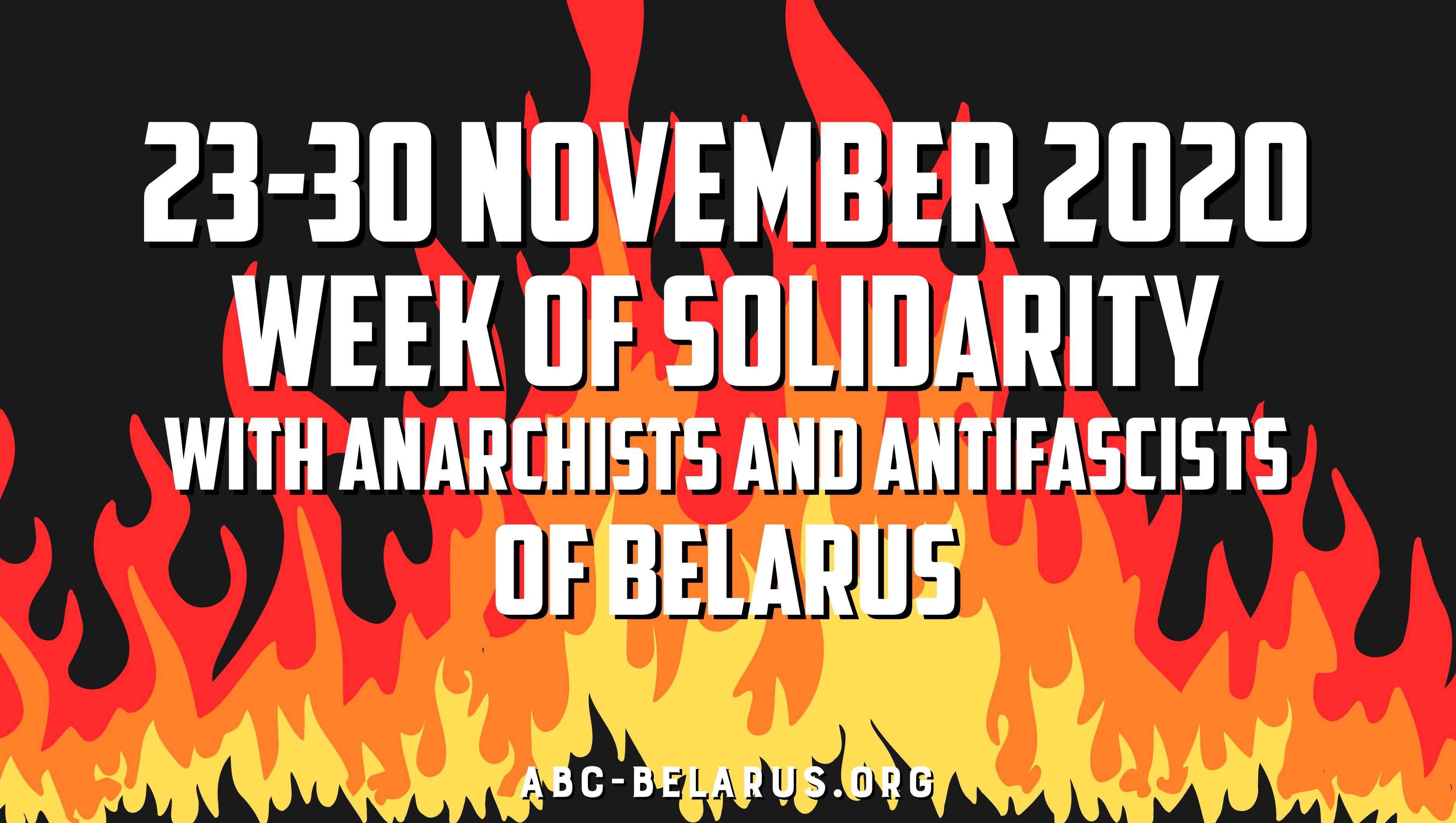 There's also been a pretty solid stream of news coming out of Belarus recently – see in particular the call for a week of solidarity with anarchists and antifascists of Belarus from November 23-30th, their fundraising campaign, and the recent open letter in support of Belarus anarchist revolutionaries. If you want more info, The Final Straw have just done an interview on the uprising, and ABC Belarus and ABC Dresden are both good for regular updates.
Iranian anarchist exile Abtin Parsa, who's had to flee Iran for Greece and then Greece for the Netherlands, where he's currently facing deportation threats, has issued a solidarity statement for Belarusian anarchist Mikola Dedok. You can learn more about Abtin Parsa's own case here.
Finally, a few more miscellaneous notes that didn't really fit anywhere else, first international then UK: the Green Anticapitalist Front have shared a report from the occupation of the historical Athens Polytechnic campus, and the International Confederation of Labour is running a fundraiser for textile/garment workers in Bangladesh who've been struggling throughout the pandemic against redundancies and unpaid wages. The ICL's Polish group, Workers' Initiative/Inicjatywa Pracownicza, have been active in the struggle to defend abortion rights in Poland, and you can read more about their involvement in an interview here.
Back in the UK, Liverpool SolFed have published a guide to the new Job Support Scheme. Hull Sisters, a shelter for BAME women in Hull, is facing eviction and fundraising for a new building. Bristol IWW are hosting a "Bristol is Ungovernable" online meeting on Monday 23rd November.
On Sunday 29th, there's the Northern (online) launch of a new book about working class resistance to the Nazis in Germany and France, and there's also a transnational online assembly about "Essential Struggles against Patriarchal Violence" happening that day.
The Anarchist Communist Group have a few updates: the new issue of their magazine, renamed Stormy Petrel, is coming out soon, and they'll be running a "Libertarian Communism 2020: Class Not Nation" discussion on Saturday December 5th. An audio recording from their last meeting on the Labour Party is also now available to be listened to online. The Let's Get Rooted network is also keeping busy: new updates include a website hoping to help coordinate a Heathrow workers' solidarity network, and their Croydon group have produced a leaflet about current Amazon workers' struggles in Poland, as well as a more general Amazon drivers' leaflet.